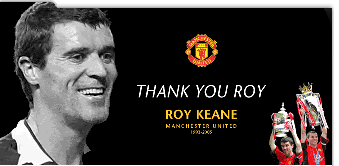 Thank you for the wonderful 12 years at Manchester United. I grew up watching Keano play and it will be different without him on the team. The best midfield player in the world of his generation. Keano has been central to the success of Man Utd in the last 12-and-a-half years and has been a towering figure at the club. His dedication, talent and leadership have been qualities that have marked him out as one of the true greats. Simply irreplaceable.

I wish him well in the rest of his career and beyond.
Thanks for everything Mr Royston Maurice Keane.