I love year-end lists. If you google for '2005 lists' right now, you will probably find thousands of year-end lists that covers almost absolutely everything from music, movies, people, business, sports... everything. Being a huge entertainment fan, I sometimes don't agree with some of these list. So I have decided to come up with my own list. This is not a top 10, or Top 5, or Top whatever. The list is just a recollection of some things that I enjoy watching/listening to this year. These are my source of entertainment in 2005. Some of these stuff are probably from late last year, but who cares.. It is MY list. So if you don't agree with me, well, go do your own list! I dare you.. haha. (u know who u are).

So here's now, my list of favourite (..and not so favourite) music of 2005 in no particular order whatsoever. Coming up next, The 2005 List (Movies & TV).

FAVOURITE BAND/ARTISTE 2005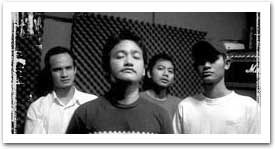 Seven Collar T-Shirt
Of all the bands and artistes that I listened to this year, nobody had an impact on me like these guys. They reminded me of how I felt when I first listened to all those other great rock bands. Simply because the music that they played is like nothing that you ever heard of. Before Drones, I was aware of SCTS existence but I was not paying much attention to them. But after I heard Faith on the radio for the first time, I was impressed. Awed to be exact. Somehow I felt the emotion and the intensity of that song. It just grabbed me. Needless to say, I went out and bought Drones. After that, the only music that I listened to for 2-3 weeks straight is their album. I was impressed by the melancholic sound and the multi-layer of every song on the album. The guitar work was amazing and the vocals was emotional. I felt that the album dwells with my mood no matter where or when I listened to it. It was full of emotions and feelings. It takes you on a journey. It was good music.
I regard SCTS as one of the important band in our music industry today. They are not afraid of exploring new sounds and new styles of music. Although some people would think that they were merely experimenting, but you cannot hide the fact that these guys has created something fresh and new to our music industry. Us, music lovers, can't help but be thankful because of bands like SCTS, the local music industry is on it's way up again. So to Duan, Ham, Fidi and Adil, thank you for the music. Keep on exploring..


FAVOURITE ALBUMS 2005

Drones - Seven Collar T-Shirt
It's pretty obvious isn't it? The most important local release in 2005. I kept playing this album non-stop for weeks on my computer, my car, my discman, everywhere. The sound that they produce is so refreshing and unique that you just can't help but be proud of these local heroes. Duan wailing melancholic voice is so full of emotions and intensity that you just can't help but feel his pain, anger, sadness and every other mood swings. Moody at times, the album is well-produced, the tracks were well-written and the musical arrangement was superb. Check out the harmony part in the title track Drones. Or the bassline in The Boohuoorah Theory, Or the infectious sound of snare drum in Faith. Or the guitar effect on Summary. If you are connected to your own emotions, take a listen to this album, close your eyes ..and just feel. Fave track : The whole freaking album!

Silent Alarm - Bloc Party
Oh, how I love this one. I couldn't stop stomping my feet to every freaking song on this album. Matt Tong's acrobatic drumming, Kele Okerke's endearingly ugly vocals and a collective knack for instrumental and studio nuance set Bloc Party apart from all the other British post-punk bands. Now, if only I could see them perform live...
Fave Track :
Helicopter
. Makes me wanna jump and scream 'Hell Yeah!' in thick British accent.
Funeral - Arcade Fire
It's not easy to describe this album. But I remember reading one review of this album that says, '...Funeral is a amazing record, hard to hear at first, then hard to stop hearing.' That is exactly what it is. Canada's best export since, err, well.. Bryan Adams! Fave Track : Wake Up. The majestic harmony that started the song reminded me of Chinese opera. And at the end, Win Butler screams out, '..you better look out below!' . Pure genius.

Laskar Cinta - Dewa
As a self-confessed Baladewa, this album had to be on my list. Although not as great as 'Cintailah Cin
ta', this album still packs a few punches. Nobody can tell a universal love story, musically or not, as inspiring as Dhani and Dewa. I could hear this album on almost every computer in my office this year. They will release a new album next month entitled 'Republik Cinta' and I just couldn't wait to hear what they had to offer this time.

Fave track :

Satu

. Simple melody, wonderful lyrics, great song.
Late Registration - Kanye West
He did it again. After his critically acclaimed first album, Kanye has produced another masterpiece. With his sharp lyrics and phat beats, Kanye is probably the most important man in hip-hop at the moment. I salute this musical genius.
Fave track:
Heard 'Em Say

. Last year it was Justin Timberlake. This year Adam Levine is the new white boy in hip-hop. Smooth vocal and melody plus Kanye sharp lyrics, makes this a one hell of a collaboration.
X&Y - Coldplay
The band that the critics love to hate this year simply because it's cool to do so. Regardless of your opinion about the band, this album stills stands out as one of my favourite album of 2005
.
Fave track:
Fix You

. I love the part when the drums and the guitar kicks in
and change the colour of the song completely. Brilliant.
Get Lifted - John Legend
I'm not sure if this album was released in 2005. But I'm sure I've been playing his CD a lot this year. This album is really good for that long drive home from work. Relaxing and uplifting. He's the new soul superstar.
Fave track:
Used To Luv U

. Kanye West / John Legend partnership at it's best.
So Amazing (Tribute To Luther Vandross) - Various Artistes
THE R&B album of the year. This album features some of the best R&B, soul and hip-hop artiste in the industry that includes, Usher, Alicia Keys, John Legend, Patti Labelle, Gladys Knight and many more.
Fave track:
Superstar

. Usher has never sounded so soulful. A fitting tribute from a superstar to another.
Nobody raps smarter or more thoughtfully than Common, and with the help of the genius that is Kanye West, the result is a funky album that's good for rocking your body as well as your mind.
Fave track:
Testify
. Catchy hook, thoughtful lyrics, funky beats; recipe of a great song.
Padi - Padi
One of
Indonesia
's greatest rock band, Padi have always been consistent with producing a great album after another. This album portrays a more lighter and sunnier side of the band (complete with the colorful band logo) yet they never lost that edge when they rock.
Fave track:
Menanti Sebuah Jawaban

. After first listen, everybody fell in love with this tune. Fadli voice sounded very silky.
This Is The New Pop - Love Me Butch
One of the exciting talent in our local music industry today. I love this album because it sounded so raw and heavy and yet very tuneful.
Fave track:
Reconcile

. It goes from hard-hitting to melodic without changing the feel and the energy of the song. Energetic.
The National - Alligator
Several critics have referred to The National as 'rock noir', and it's a pretty apt moniker.
I love the fact that the lead singer, Matt Berninger's voice sounded like Johnny Cash. The music is dark and the voice broods; perfect for those lepak moments before you go to sleep.
Fave track:
Mr December

. You'll be singing along to the chorus in no time once you hear this rockin' track.
Rebirth Into Reality - Too Phat
Just when everybody thought they were breaking up, Too Phat answered the critics with this delightful double album. Filled with outstanding, well-written, well-produced tracks, this album also features great collaborations with big names like Siti Nurhaliza, Machi, Joey Boy and even dangdut queen Inul. Any local hip-hop acts in Malaysia right now has to top this album to even being consider a serious contender in the business. As for now, Too Phat still reigns.

Fave track:

Dua Dunia

. The collaboration that was bound to happen. And I'm glad it did.
Excellent vocals from Siti Nurhaliza. Malay rap starting to make sense.
FAVOURITE SONGS 2005
Apart from songs that I mentioned above, these are some songs that I really enjoy listening to this year :
Dealova - Once
Once has a tremendous voice. He could even be singing football chants and still sounded good. Dealova is a beautiful song. Backed by the Melbourne Symphony Orchestra, Once voice just haunt you. You could feel the lyrics that he sang because it was full of emotions. I love the fact that Once kept his voice just right on the edge of breaking. Hauntingly beautiful.
Manusia Bodoh - Ada Band
Surely with a title like that you would have everyone's attention. Ada Band is one of
Indonesia
's underrated band. They produce some great songs and made some great videos. This is a simple song about a man who realizes that her girl was cheating on her. Self-hating has never sounded so tuneful.
Welcome To Jamrock - Damian 'Jr. Gong' Marley
The dancehall anthem of the year. Damian continues the legacy left by his father with this hypnotic, oddly slow, almost hip-hop, reggae groove. Check out
Alicia Keys Unplugged
album where Jr. Gong was invited to sing this song on stage towards the end of the show, and he brought the whole crowd down.
Since U Been Gone - Kelly Clarkson
The most infectious pop/rock song of 2005. Before this song, I never really care about Ms. Clarkson, American Idol or anything related. But I have to admit, after hearing this song, I started paying more attention to the talent of Kelly Clarkson. The Swedes who wrote this track are geniuses. They have the ultimate formula of writing catchy pop/rock songs that made us all singing in unison. Kelly can rock Ashley and Avril out of the game any time, man.
Hate It Or Love It - The Game feat. 50 Cent
The underdog is on top. Dr Dre produced one of the catchiest hip-hop anthem of the year. Buttery soul beat, pumping bass line that got my head nodding and the strongest verses 50 and Game has ever written. Gangsta rap is still alive and well.
Helena - My Chemical Romance
A funereal work of pitch-perfect adolescent frustration and morbidity, easily the most psychologically twisted song ever written. It got me singing '
..so long and good night!
' like a psychotic gravedigger. Plus, the video rocks.
Oh - Ciara feat. Ludacris
Slow jam hip-hop always got me going. With its quaking low end, that ominous synth loop crawling up from somewhere dirty, and, of course, a never-sexier Ciara purring
'Round here, we ridin' sloooow...'
, it's the low-riding song of the year. And for his part, Ludacris's guest verse is absolutely dynamic. You'll be boppin' your head in no time.
Kerna Sayang - VE
Sure,
Pop Ye Ye
is a great party song, but VE is at it's best when singing R&B slow jams. The musical arrangement on this song is excellent and VE nails the harmony part brilliantly. Soothing and comforting music.
Benci Untuk Mencinta - Naif
Indonesia's version of The Darkness with less rock, more campy and fun. This is a stunning ballad that potrays the more romantic (..or rather un-romantic) side of the band.

Angguk Angguk, Geleng Geleng - Ahlifiqir
The catchiest song on the radio this year. They got everybody and I mean
EVERYBODY
singing along to this song. Proof? I overheard my always-stern-and-serious 55 years old boss mumbling the hook
to this song once. Now THAT is quite impressive.
FAVOURITE VIDEOS 2005
Doves - Sky Starts Falling
The video was filmed in grainy black and white and coupled with some remarkable CGI that includes orchestrated fighter planes and flying houses among others. Stunning.
Gwen Stefani - Hollaback Girl
It's not the song. It's not the Neptunes who wrote this track. Hell, it's not even Gwen. It's those 4 Harajuku girls that got me watching every time this video came up on TV. Super-kawaii.
Sitting, Waiting, Wishing - Jack Johnson
They filmed the whole video backwards. In one take. Brilliant idea.
Beck - E-Pro
Do you remember those back pages of 'Gila-Gila' magazine where you can fold the pages to reveal what really is the image and messages behind the initial artwork? Well that's what the video is all about. Eye-catching.
White Stripes - The Denial Twist
Michael Gondry is a genius. If you saw 'Eternal Sunshine of The Spotless Mind' you probably know that anything directed by him is going to be exceptionally mind-blowing. After that Lego inspired masterpiece, 'Fell in Love With A Girl', Gondry and White Stripes has delivered us another amazing video. Plus, there's a cameo appearance by my favorite talk show host, Conan O'Brien.
Carpark North - Human
Putting kids in music videos always got people watching wether it's good or bad. It's a simple video, images of kids filmed in some abandoned school. But it's the way that the video was shot what makes this video so beautiful. Eye candy.
Oasis - The Importance of Being Idle
Cameo of the year by Rhys Ifans. Oasis finally shows the lighter side of their band with this video that potrays them as staff from a funeral parlour.
The Strokes - Juicebox
Who doesn't enjoy watching 2 beautiful ladies making out like crazy? Huh? No?
LEAST FAVOURITE SONGS 2005
anything by Crazy Frog
Somebody please kill this stupid frog!! It's the Macarena and Las Ketchup of 2005. It seems that every year, there's going to be an album or artist (..or in this case an animal) that's going to annoy the living hell out of us. A ringtone turned into a single that designed purely to make money. Thanks to this frog, the theme to Beverly Hills Cop will now be remembered as '
That Frog Song
'.
Listen to Your Heart - DHT
Oh please. Do people still dig techno covers? It is so 1980's. I prefer Roxette's version a million times better.
Ass Like That - Eminem
By releasing this crap as a single, he just lost a chunk of his credibility as a serious contender in the rap game.
Lonely - Akon
Amusing when u listened to it the first few time. But after 25,000 times, u just wish that somebody would kill those chipmunks singing the hook of Bobby Vinton's 1964 hit and let Akon be lonely for good.
Cater 2U - Destiny's Child
Here's what I don't get about Destiny's Child. They used to sing songs like '
Independent Women
' and '
Survivor
' and all that girl power stuff. But in this song, they sang like they were slaves to their man. They harmonically listed the things they'd do for their man when he got home from work, from removing his shoes and getting his slippers to running a bath. And there's a part where they sang
'...when you come home late tap me on my shoulder, I'll roll over baby, I'm here to serve you.'
What? I'm a male, and even I'm embarrassed to hear all that shit. Hmm, so much for being an independent women.
My Humps - Black Eyed Peas
Yeah, I know u love this song. But wait till you hear your 6 year old niece singing it. Then u probably feel very worried, like me. BEP used to have credibility. They were the new face of hip-hop when they release the first album. But after tracks like these, I'm not very sure. How the hell are we going to explain to our nieces/nephews/sons/daughters what
humps
and
lumps
really mean? Thanks a lot BEP for corrupting the minds of children all over the world.
anything by Craig David
Oh Craig, Craig. I could still remember your first album. It was refreshing, tuneful and full of energy. In fact everybody thought that you would be the one that could give a facelift to the world of R&B. But sadly, you turn.. err,... well, pop. Instead of being an R&B superstar, you have turned yourself into just another pop singer. Reinvent yourself, please. And lose that silly beard already, man!
I Don't Care - Ricky Martin
Mr Bon-Bon turning hip-hop? Even Amerie and Fat Joe couldn't help to relaunch his career. The title of the song explains how I feel about this track.