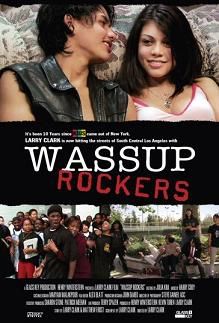 If I told u I'm a huge fan of Larry Clark's work you would probably think that I'm a freak. This is mostly because his film often deals with issues that other directors would stay away from. Teen sex, incest, autoerotic asphyxiation, adolescence, teen violence, teen drug abuse, AIDS... those are usually the main ingredients in a Larry Clark's film. His cinema verite style of film-making, his almost voyueristic approach of filming a scene and his penchant for casting unknown teenage actors and actresses making his films look very real and raw.
His debut film
KIDS
(..which launch the career of Chloe Sevigny and Rosario Dawson among others) suddenly appear out of nowhere to shock the Hollywood film industry - -- an ugly portrait of amoral youths who resort to drugs and sex not as a form of rebellion, but to fill the void of otherwise empty and meaningless lives. The scenes are very graphic; and most people are labelling his films exploitative; he's being blamed for glorifying teenage sex. But people tend to forget that the issues that were potrayed in a Larry Clark's film are real issues. Even in a country like our pride and glory Malaysia, we can relate with issues of teenage sexuality, rape, drug abuse and violence. We read about it in newspapers every day. Larry Clark's is probably the only director who has the guts to show us what transpires when children are set adrift in a heartless world, and warns us what happens -- and is already happening -- in the absence of love and guidance.
Being a fan of his works, there is a high amount of expectation for his latest film. But sadly, I guess, when u expect too much from someone or something, you tend to get a little bit frustrated. And that is the case with his latest film,
Wassup Rockers
.
Wassup Rockers
in short is about a group of seven Latino South Central skateboarders who took a road trip to Beverly Hills to practice their hobby. While there, they encounter a couple of horny white girls who invite them to drop by, a racist cop, a gay pedophile throwing a house party, a trigger-happy film director, and a freaky woman looking for a toy boy. Almost like a fucked-up version of
Ferris Bueller Day Off
. According to the
Wassup Rockers
press notes, Larry Clark spent a year following around a real-life band of Latino skate punks who dress like the Ramones. They're nonactors whom Clark met in Venice Beach, then built a film around. They ad-lib most of their dialogue, perform their own bruising stunts and enact vignettes from their everyday lives, working out, practicing their music; basically just hanging out. The message of the movie is loud and clear - People shouldn't be judged by their appearance and mannerisms. Just because they're from the ghetto, look like gang members, and commit crimes doesn't mean they're bad individuals.
The result - a low-key, pervy mess. Structurally, the movie's provocative: It starts out feeling like a hand-held documentary and just gets stranger as it goes along. At first glance, I, certainly, became confused if the movie was a documentary or not. (It's not). The pace is terribly slow. The dialogue, which sounds improvised, is mostly silly and occasionally simple-minded. The acting is atrocious across-the-board. Then again, what did you expect after going into South Central and picking up seven kids off the streets?
The movie works best during its small scenes - conversations between the boys, domestic sequences, and skateboard practicing. It's when Clark ventures onto the wider portion of the canvas that he runs into trouble. Also, I found the Latino punk music to be distracting. In small doses, it would have helped establish the setting, but its non-stop presence becomes extremely annoying. The only time I really like the music is when the boys finally make it out of Beverly Hills to the tune of Mogwai's '
Take Me Somewhere Nice
' which transcends the scene to another level.
Compared to other Larry Clark's film, this movie could be described as his most mainstream movie to date. Well, for the first time, there isn't even a hint of nudity, although the trademark lingering shots of bare teenage flesh and faces is still there. But for me it's not the nudity ( or lack thereof) that bothers me. While his other films like
Kids, Bully, Ken Park
and even
Teenage Cavemen
deals with interesting teen issues and somewhat raw acting, Wassup Rockers comes across as contrived and silly, with the coup de grace being an idiotic scene featuring a bathtub electrocution (..featuring a very familiar face from
America's Next Top Model
). It's goofy in some parts and the flat acting also didn't help much. It's funny in a gratuitous way, but makes you wish Clark had quit trying to cook up adventures and silly settings for his cast and try to chronicle these kids' lives in a short film or documentary instead.
Wassup Rockers
will give Larry Clark a non-controversial title on his resume. I doubt, however, that it will perform better than his earlier films.
Wassup Rockers
is amateurish, but without the redeeming qualities found in
Kids
and
Bully
. Disappointing.