Another weekend spent at the office. Tapi minggu ni ofis aku ada tournament futsal. So sempat jugak la aku ke bukit jalil untuk tengok diaorang main. Nama aku actually ada team department aku. Tapi tak tahu kenapa aku malas nak main. Lagipun aku ada keja kat ofis. Aku takde la terror sangat main bola ni or in other words 'benchfeet' jugak la, tapi boleh la setakat nak main biasa-biasa. Aku dapat rasa yang aku lebih minat kepada the tactical side of football. Ramai orang ingat main bola ni setakat sepak bola ke depan aja. Open play, offensive, defensive, attacking press, counter attack, long ball.. there's a lot of tactical play involved in football. Aku suka tengok the different way a football team play against a different opponent at a different time. Benda-benda tu la yang buat aku tertarik pada bolasepak ni. Aku rasa aku lebih minat jadi coach dari jadi player. Aku penah jadi coach/manager team bola kolej aku masa matrik dulu. Walaupun benda tu takde la hebat sangat tapi i love every minute of it. Jadi coach bola best gak kan? Hmmm..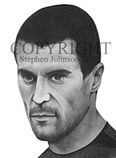 The biggest news in football this week has got to be the Roy Keane statement in MUTV. REDS captain Roy Keane has shocked United fans by admitting he is set to walk away from Old Trafford at the end of the season. Keano (as we Red Devils refers him to) contract is set to expire at the end of this season, but it had been expeced that he would extend his stay at the club by another year and start his move into coaching. But instead the Irishman has announced that he intends to leave the club once his deal is up, and will look to extend his playing career outside the Premiership. Celtic are expected to be his first choice with Keane being able to start talks over a move out of the club in January.
Shit. No Keano in MU? That's like losing a family member, man. I grew up watching him play! He's the guy that took the torch from my reason for supporting Man Utd, Bryan Robson. And he gave me another solid reason for me to suport the team. A midfield dynamo. One of the most influential player ever. Supreme footballer. He is the epitome of the unwavering spirit and desire to succeed that Man Utd stands for. Few sportsmen lead from the front in the way Keane does, both on and off the pitch. A natural leader and skipper. Certainly will be one of the greatest player in Manchester United. I mean, have you ever heard any other footballer with a London musical entitled 'I,Keano' writen specifically about him?. Or any footballer with a tribute song entitled 'Roy's Keen' by lifelong supporter, Morrisey? That's how great he is. So when u realized you are losing one of your greatest player, you panic.
But I guess that time has come. Great players come and go. I had the same feeling when Cantona decided to call it quits. He certainly can't be playing football up till he's 45 years old. But I do hope he call it quits while he's still wearing a Man Utd jersey. The sight of seeing him in another team jersey is too much for me to stomach. I guess the statement that he made in MUTV is just a hint for the Man Utd management to offer him a new contract comes January. But everybody now is already talking about his replacement. Smith, Ballack, Gerrard, Diara, Zokora, Gravesen - are some of the names mentioned as potential candidates for his replacement. Wanna know what I think? Shut up! You cannot replace him! He's irreplaceable. I guess Carlos Queiroz said it best - "You don't replace great players like Pele, Maradona or Roy Keane. You just create new players in new teams. That is why the game moves forward."
Nuff said.